Description
The Samsung Galaxy Note 9 puts a new spin on the term 'an interactive smartphone'. It simplifies the way you work on your hand-held device to the way you charge it, and everything else in between. Connecting to the Internet or uploading content on it is seamless, thanks to the phone's fast network speed of up to 1.2 Gbps. Listening to music is enhanced by its Dolby Atmos audio system which creates an impressive three-dimensional sound. To sweeten the deal, the Samsung Galaxy Note 9 is credited with an IP68 rating, which means it is sealed from the inside out, making it resistant to water splashes or dust.
Product Description
Experience an improved level of performance and control with the Samsung Galaxy Note 9. It lets you carry your world in the palm of your hands and access everything you want instantly anytime, anywhere – its Intelligent Scan feature uses a combination of face recognition and iris scanning to recognize you in both bright and low-light settings to unlock your phone. You can also use your fingerprint, a password, or a PIN to keep things between you and your phone.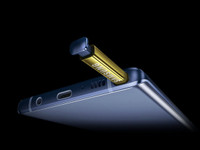 Powerful Performance
Discover new heights of what you can achieve, whether it's gaming, streaming videos online, or multitasking on this phone – all brought to you by its 10 nm processor and 8 of GB RAM.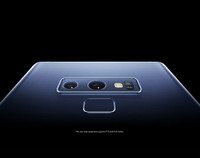 Dual-aperture Rear Camera System
Much like the human eye, the rear camera system (12 MP + 12 MP) intelligently adapts to the surrounding light and chooses between two f-stop modes to bring you the best and clearest pictures. The F1.5 aperture mode pulls in light to brighten low-light shots, while the F2.4 aperture mode gives you perfectly exposed daylight pictures. The Samsung Galaxy Note 9 isn't one to shy away from the dark either. Its HDR capabilities reduce noise to keep the details clear and the colors vivid in pictures. All this without washing out light sources – you can expect sharp and colorful pictures in your gallery regardless of whether it's day or night.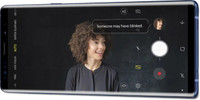 Infinite Possibilities
Capture what the others aspire for. This phone's telephoto lens and wide-angle lens work together to shoot the whole scenery in front of you, even when you're zoomed in. Have the case of shaky hands? You can trust the dual OIS to deliver sharp pictures despite your 'shortcomings'. Features such as the Live Focus which lets you create unique portraits, the Scene Optimizer which detects the subject in the frame and chooses from 20 different modes to give you the best shot, and the Flaw Detection feature which detects blinks, blurs, smudged lenses, and backlighting so you can adjust and reshoot photos open you up to endless possibilities of elevating your photography skills.

It's All Art and Games
Showcase your directorial skills with the Super Slow-mo feature. The phone's super-speed camera shoots videos at a wicked-fast speed of 960 frames per second. Play back these videos to look back on every moment in incredible detail. All about the fun, this smartphone also lets you show off your animated side (AR Emoji) and elevate your selfies and videos with the help of beloved characters such as Mickey Mouse and The Incredibles (Disney AR Emoji).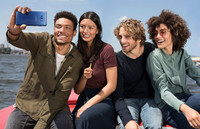 Front Camera
Its 8 MP front camera intelligently detects faces to make sure they are in focus to help you snap blur-free selfies. That's not it. A simple press of a button on the S Pen will give you perfectly aligned pictures even from almost 10 m away.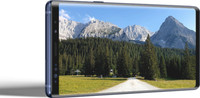 Dual-edge Infinity Display
The iris scanner and sensors on the top are hidden away on the phone's 16.24 cm (6.4) Quad HD+ Super AMOLED screen. This cutting down of virtual disruptions makes way for a wider screen space so you can lose yourself in an immersive cinematic experience right on your hand-held device. Details such as the phone's 516 pixels per inch and 2960×1440 resolution add to the enhancement of the quality of pictures displayed.

Aesthetically Pleasing Design
The dia-cutting design detailing on the edges gives this smartphone a high-end faceted appearance. Its virtually bezel-less display and its all-round seamless design ensure that this phone not only looks good, but also feels good in your hand.
All-day Battery Life
Leave your wire-bound-life days behind you because this phone's powerful 4000 mAh battery gets you through an entire day on a single full charge.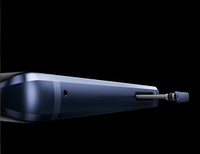 Store More, Delete Less
Music, photos, files, and everything else in between – store them all on this phone's expansive 512 GB (internal) of ROM space. You can expand this storage space by up to and additional 512 GB via a microSD card.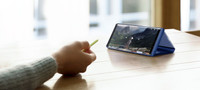 Intelligent S Pen
Get more done, quickly, with this Bluetooth-enabled pen. Its fine 0.7 mm tip and 4096 pressure levels make using the S Pen as intuitive and natural as writing on paper with a regular pen. This pen simplifies the way you work on presentations in Samsung DeX, take notes, take selfies, draw, pause videos on apps like YouTube, make to-do lists, or send Live Messages.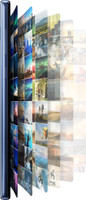 Android Oreo 8.0 OS
Smart, fast, and powerful, the Android Oreo 8.0 operating system lets you get started on tasks at double times the speed. It minimizes background activity in the apps you use least to ensure a lag-free usage of the ones you use frequently.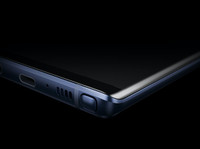 Other Features
Subscribe to two different numbers and LTE data plans on this device, thanks to the phone's dual SIM support capabilities. Designed for gaming enthusiasts, its innovative water-carbon cooling system (diffuses heat) and the Smart Performance Adjuster work together to bring you an optimal gaming performance.