Description
"Take your smartphone and mobile-photography experience to the next level with the Vivo V15 Pro. Equipped with a triple rear camera (48 Million Quad Pixel Sensor (12 Million Effective Pixel) + 8 MP + 5 MP) and a 32 MP Pop-up Selfie camera, this smartphone lets you take stunning pictures and selfies, every time. Its 16.23 cm (6.39) FHD+ Super AMOLED Ultra FullView display ensures an immersive entertainment experience while its 3700 mAh battery, with Dual-engine Fast Charging feature, keeps you going all day. That's not all, it's powered by the Qualcomm Snapdragon 675AIE processor and 6 GB of RAM which let you multitask like a pro. Save pictures, music files and other multimedia files without worrying about running out of storage space as this Vivo smartphone comes with 128 GB of internal storage space which can be expanded by up to 256 GB."
Product Description
Unleash the photography enthusiast in you with the Vivo V15 Pro smartphone. It comes loaded with a 32 MP pop-up selfie camera and a powerful triple rear camera system to help you click flaunt-worthy shots, day or night. Its 3700 mAh battery, supported by the Dual-engine Fast Charging feature, won't call it a day even after you do.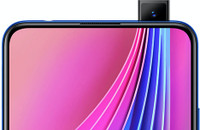 Pop-up Selfie Camera – A Design Masterpiece
The 32 MP selfie camera of the Vivo V15 Pro is designed such that it doesn't crowd the Ultra FullView display. It pops up when you need to take selfies and 'groupfies'.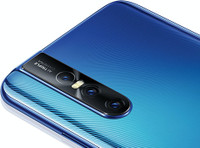 Triple Rear Camera System
From wide-angle shots to close-ups, you can experiment with your photography skills to the fullest with the triple rear camera system of the V15 Pro. Equipped with a 48 million Quad Pixel Sensor (which supports up to 12 million effective pixels), an 8 MP AI Super Wide-angle camera and a 5 MP Bokeh camera, the rear camera system will help you take stunning photos at any time of the day.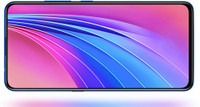 FHD+ Super AMOLED Ultra FullView Display
From photos and videos to games and ebooks, now view everything in sharp detail and stunning colors on the 16.23 cm (6.39) FHD+ display of this smartphone. Its screen-to-body ratio of 91.64% is designed to offer you an expansive visual real estate.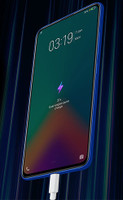 Battery That Keeps Up with Your Active Digital Lifestyle
The long-lasting 3700 mAh battery of this smartphone takes advantage of the Dual-engine Fast Charging feature so that you're never left in the lurch when you need your phone the most.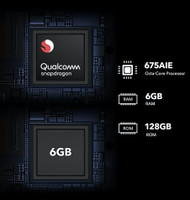 Performance That Commands Respect
Chat, play games, watch videos, switch between apps or surf the Internet – do whatever you want to your heart's content with no lag or stutter. This phone is equipped with a powerful Qualcomm Snapdragon 675AIE processor and up to 6 GB of RAM to offer you a seamless multitasking experience. In addition, the fingerprint sensor, which is located on the screen itself, makes for fast and secure data access.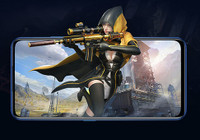 Gaming Got All the More Fun
The Vivo V15 Pro comes with a host of innovative features, such as the Competition (Game) Mode, Dual-turbo Smooth Gameplay, and reduced frame drop, making it an ideal weapon of choice for the virtual battlefield.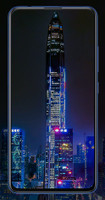 Expansive Internal Memory
In today's digitally inclined world, we often run out of smartphone memory – courtesy the hundreds of photos, videos and other files. The Vivo V15 Pro offers you up to 128 GB of internal storage space which can be expanded by up to 256 GB, so you don't run out of storage easily.