Description
Whether you want to work on the go or stay entertained during boring days, this Samsung Galaxy Max is what you need. With a 17.8 cm screen, this tablet will make sure you have a great time, be it work or entertainment. To further enhance your experience, this tablet is equipped with a powerful battery and super processor.
Product Description
Dive into a galaxy of entertainment with this tablet. Movies are more realistic on the Galaxy J Max's 17.8-cm display as characters appear to be larger on it. You don't have to cut short your entertainment sessions either, thanks to this tablet's extended battery life.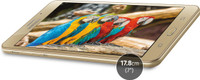 Bigger, Better
Samsung's Galaxy J Max is the ideal tablet for hardcore gamers who love playing Mortal Kombat X or movie buffs who are crazy about the classics. It's large 17.8-cm WXGA TFT screen produces rich images at a resolution of 1280×700 pixels, so you can thoroughly immerse yourself in the entertainment of your choice.

All the Power You Need
Who says you can only enjoy movie marathons on a TV? When fully charged, this tablet can operate for a duration of up to 9 hours as it comes with a powerful 4000-mAh battery. So, you can watch a few good movies at a stretch without having to recharge the battery.

Ultimate 4G Experience
If online gaming is your thing, you wouldn't want to disconnect or lag when you're playing a game while travelling. Thanks to 4G technology, you won't face such hassles on this tablet as data transfer rates are very fast on it. To go easy on your data package, you can switch on Samsung's Ultra Data Saving Mode to save up to 50% of data when you're browsing the Web.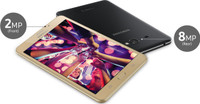 Capture the Spectacular
If you're taking a trip around India, you can use the 8-MP rear camera to capture clear photos of scenic locations like Agra to carry its essence with you. Parties can get hazy after you've had a few drinks, though, you can always use the 2-MP front camera to capture excellent selfies of all the joyful moments to remember them in detail.

Connect the Way You Want
If you like a data package that's provided by one service provider but you prefer the call plans offered by another, you can use two SIMs on this tablet to make the best of both.

Expand Your World
If 8 GB of internal memory isn't enough for you to store your favourite videos, songs and games, you can always expand this tablet's memory by up to a whopping 200 GB. Now, you can store entire film series on your smart device knowing full well that you'll have space for other data too.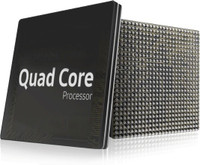 Enjoy Pure Performance
You won't experience glitches when you shift from watching a video on YouTube to checking social media updates on FB as this tablet features 1.5 GB of RAM and a 1.5-GHz quad-core processor.