Product Description
Take mobile gaming to the next level with the ASUS ROG phone. It features a design that gears you up for your virtual battles, while giving you the comfort you need. Powered by the speed-binned 2.96 GHz Qualcomm Snapdragon 845 Mobile Platform and the Adreno 630 GPU, this phone handles taxing and intensive gaming sessions seamlessly. The ROG GameCool system keeps the phone cool while you are sweating it out on the battlefield. With the 4000 mAh and ASUS HyperCharge, you can be assured that this phone stays powered up throughout your gaming sessions.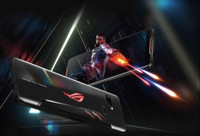 Designed for Battle
This metal-framed, water-resistant ROG phone uses a combination of tough, precision crafted front 2.5D Corning's Gorilla Glass 6 and rear 3D curved Corning Gorilla Glass 5, both with diamond cut highlights and copper detailing to give you an unrivalled mobile gaming experience. Its battle-hardened construction and comfortable gaming grip gear you up for the battles yet to come.

Epic Performance
The speed-binned 2.96 GHz Qualcomm Snapdragon 845 Mobile Platform and the Adreno 630 GPU, together, takes mobile gaming to the next level. The components of this phone are optimised to give you a stutter-free and highly responsive experience this phone delivers consistent, smooth and stable frame rates with no lag.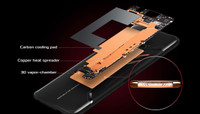 Play it Cool with ROG GameCool System
When you are playing intense, graphics heavy and fast-paced. AAA action games, your phone tends to generate a great amount of heat and it becomes uncomfortable to hold, and not to mention slow. This ROG phone is built right from the ground to combat thermal throttle even when the action gets frenzy. The ROG GameCool System features a highly efficient 3D vapor-chamber cooling inside that is enhanced with a copper heat spreader and carbon cooling pads on the circuit board. In addition to this, the powerful AeroActive Cooler gives the phone an instant, an additional cooling boost so that it can sustain its superior performance throughout. To top this off, its four-speed fan system cools the surface of the phone by up to 4.7 degree Celsius, keeping your phone, as well as your hands cool during intense marathon sessions.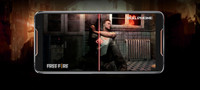 Fast and Gorgeous Visuals on its No compromise AMOLED Display
The AMOLED Display, that comes with a 90 Hz refresh rate and 1ms pixel response, delivers blur-free visuals that look so seamless on the screen. Thanks to the wide 108.6% DCIP-3 (sRGB 145%) colour gamut, the colours are more vibrant in the glorious gaming world. The HDR Visuals, with a 1,00,000:1 contrast ratio, reveal the smallest details that are hidden in the shadows, giving you a great advantage over your games.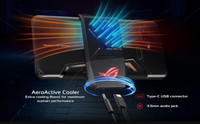 Side-mounted Ports for Comfortable Gaming
The ROG phone comes with an optimised layout that is meant for Landscape mode gaming, so that gaming is more comfortable even when you are charging your phone. And, this is made possible with the additional side-mounted custom USBC connector, which supports direct charging, an HDMI output, a gigabit LAN and your headphones. When the AeroActive Cooler is attached to the phone, you get a side-mounted USB Type-C port and 3.5mm headphone jack for an uninterrupted gameplay. In addition to this, you can use exclusive ROG Phone accessories, such as the Mobile Desktop Dock and TwinView Dock, so that you can game in utter comfort.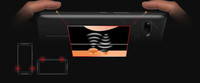 Take Control with Ultrasonic AirTriggers and Advanced Haptics
It comes with three unique ultrasonic AirTriggers touch sensors two of these ultra responsive sensors (optimised as left/right triggers at the top of the display) are meant for landscape mode gaming and one is designed to be used in portrait mode. These sensors are fully programmable to activate available onscreen action inputs, such as aiming, firing, inventory selection, steering and navigating. With this phone, you will feel like you have the advantage of two extra fingers to control the gameplay. Thanks to the ultrasonic technology used in the AirTriggers, all you have to do is just give them feather-light touches and take console-like gaming experience to the next level.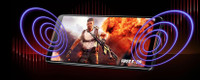 Incredible and Immersive Stereo Sound
Stay one step ahead of your adversaries as this ROG phone delivers detailed and immersive sound for your intense gaming sessions. It comes with powerful front facing stereo speakers that are driven by smart amplifiers to maximise the volume and minimise the distortion. The 24bit/192KHz audio engine can play Hi-Res Audio files too. The DTS:X Ultra sound enhancement delivers incredibly realistic 3D audio rendering for any kind of games or virtual/augmented reality (VR/AR) over headphones. You can use either headphones or speakers, and the DTS:X Ultra will still deliver incredibly realistic 3D audio rendering for any kind of games or virtual/augmented reality (VR/AR). The immersive 7.1 channel surround sound with enhanced bass response gives you crystal clear high definition audio, even over Bluetooth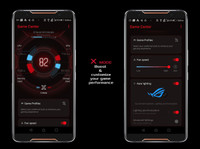 Special X-mode for Optimum Gaming Performance
With just a single tap, you can free up background RAM to dedicate it to the games. It also optimises game-data processing performance, and maximises the efficiency of the AeroActive Cooler. This mode also cuts down RAM-hungry and battery-sapping activities based on a customisable list of apps.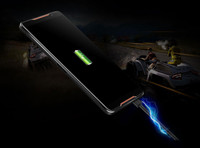 ASUS HyperCharge – Fast, Safe and Cool
This phone is engineered to cope up with power-intensive demands of gaming as it comes with a high capacity 4000 mAh battery to keep the phone juiced up for your gaming sessions. Also, it supports Qualcomm's QuickCharge 4.0. You can use the phone's power adapter to get the benefit of the ASUS HyperCharge that delivers more power (up to 20W) for quick and safe charge times. This also keeps the phone cool when it is charging. You can even charge it with a standard USB Type-C charger.

ASUS Aura RGB Lighting
The RGB illuminated rear ROG logo displays a rainbow of lighting schemes, varying from static, breathing, strobing and color-cycling. You can trigger the lighting effects for calls, notifications and much more.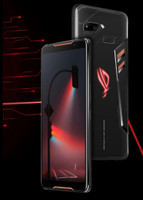 Capture the Whole Wide World
The dual camera system employs cutting edge hardware to let you click clear and bright shots every time, irrespective of the lighting conditions. Take advantage of its highly light sensitive flagship Sony IMX363 main camera, 120-degree wide-angle second rear camera, and a capable front facing camera to capture expansive landscapes, sunny beaches, atmospheric night shots, gorgeous selfies and much more.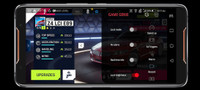 Expand Your Gaming Experience
Explore different gaming experiences from ASUS original ROG Phone gaming accessories like, the Dual screen Handheld TwinView dock, a Console-like GameVice controller, or a Desktop styled Mobile Desktop dock for a Big-screen gaming experience with a keyboard and mouse.