Product Description :
Beautifully designed and powerfully built, the Samsung Galaxy Tab A is the ideal companion for your littles to watch videos or play games, or to take care of all your work-related needs. It features 3 GB of RAM and also comes with a cinematic display and quad speakers to take your entertainment experience to the next level.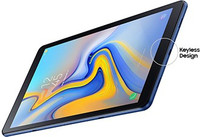 Design
Featuring a 26.67-cm (10.5) Full HD Backlit LCD Display, the Galaxy Tab A is a visual treat for your eyes. Also, enjoy more out of your smartphone with a clean, plain bezel which offers no distraction.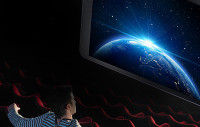 Cinematic Display
Enjoy a cinematic-viewing experience right at home with the 26.67-cm (10.5) display and a 16:10 ratio to make your Friday-night movie experience a memorable one.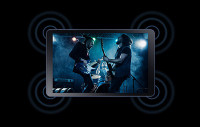 Quad Speakers
Any movie is complete only the visuals are complemented by high-quality audio. Featuring Dolby Atmos Technology, this tab automatically adjusts stereo settings according to the screen orientation, providing you with an enriched 3D surround sound experience.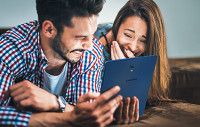 Battery
With a massive 7300 mAh battery, you can unplug and enjoy up to 14.5 hours of video playback on one charge. Also, thanks to Fast Charging you don't have to wait for a long time to use it.

Smart Home Display
You can make this tab display your favourite photos, weather forecast, current time or your calendar while it charges, turning it into a smart home display.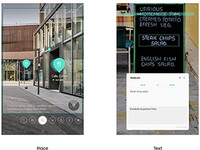 Bixby Vision
So you're on your vacation and are trying to find your way in a new city. In those situations, Bixby Vision is your ideal companion which helps to identify landmarks, and even translates foreign language signs and menus.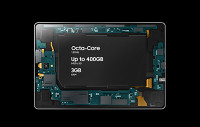 Enhanced Performance
Powered by an AP chipset and 3 GB of RAM, you can run your apps and games seamlessly. Also, with 32 GB of storage space that can be expanded up to 400 GB, you can easily store all your pictures, music, and videos.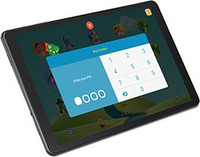 Samsung Kids Mode
With this mode, you can let your kids learn and enjoy using this tablet, while making sure to control their usage time and access to content.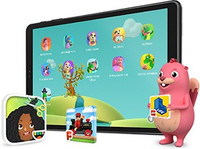 Kids Mode, Reinvented
With built-in apps and content, this tab indulges your kids' curiosity and serves as an educational tool while keeping them engaged.